All equipment used by the colonial marines.
Sulaco Bridge
Since most of the interior of the USS Sulaco is never seen in the 1986 film, my job was to work off the initial designs that Syd Mead produced for Gearbox and run with those as a starting point. The bridge was to enhance the feeling of high-tech claustrophobia.
Navigation Room
Set in the rear of the Sulaco's bridge. Many of the terminals were "borrowed" from Syd's other film work, namely the interior of the Russian vessel from '2010'.
Hallway Detail
Trying to balance the level of detail on the hallway segments for both aesthetic and modulars reasons as they would be repeated and in darkness most of the time; we couldn't get too crazy with minutia.
Exterior Study
Somehow it survived a thermo-nuclear blast…
Hallway Study
A paint-over of the game level exploring some lighting and destruction of the facility. Again, held-up surprisingly well against a nuclear explosion….
Specimen Lab Module Sketches
The Company drops off these modules (around derelict Engineer ships) to pillage their tech.
Xeno Egg Incubator
These are some examples of misc 80's "high tech" science equipment the Company uses to study the xeno eggs and other gooey stuff.
X-Ray Textures
I happily made myself into a victim of alien impregnation for this series of CAT scans that were used as textures inside the lab modules.
Queen Module
There is a specialized module reserved for a xeno queen. This one had to appear both more sophisticated and aggressive than the standard structures.
Heavy Lift Ship Ideation
Exploration for a large cargo-transport that would be used later in the game. I figured Weyland-Yutani has its fingers in basically everything in this universe so I conceived of their owning the manufacturer of the marine's dropship. That way we could maintain a consistent design language…just bigger.
I referenced Chinook helicopters and large Sikorsky Super Stallion helicopters for the design (which ultimately ended up in the cockpit design).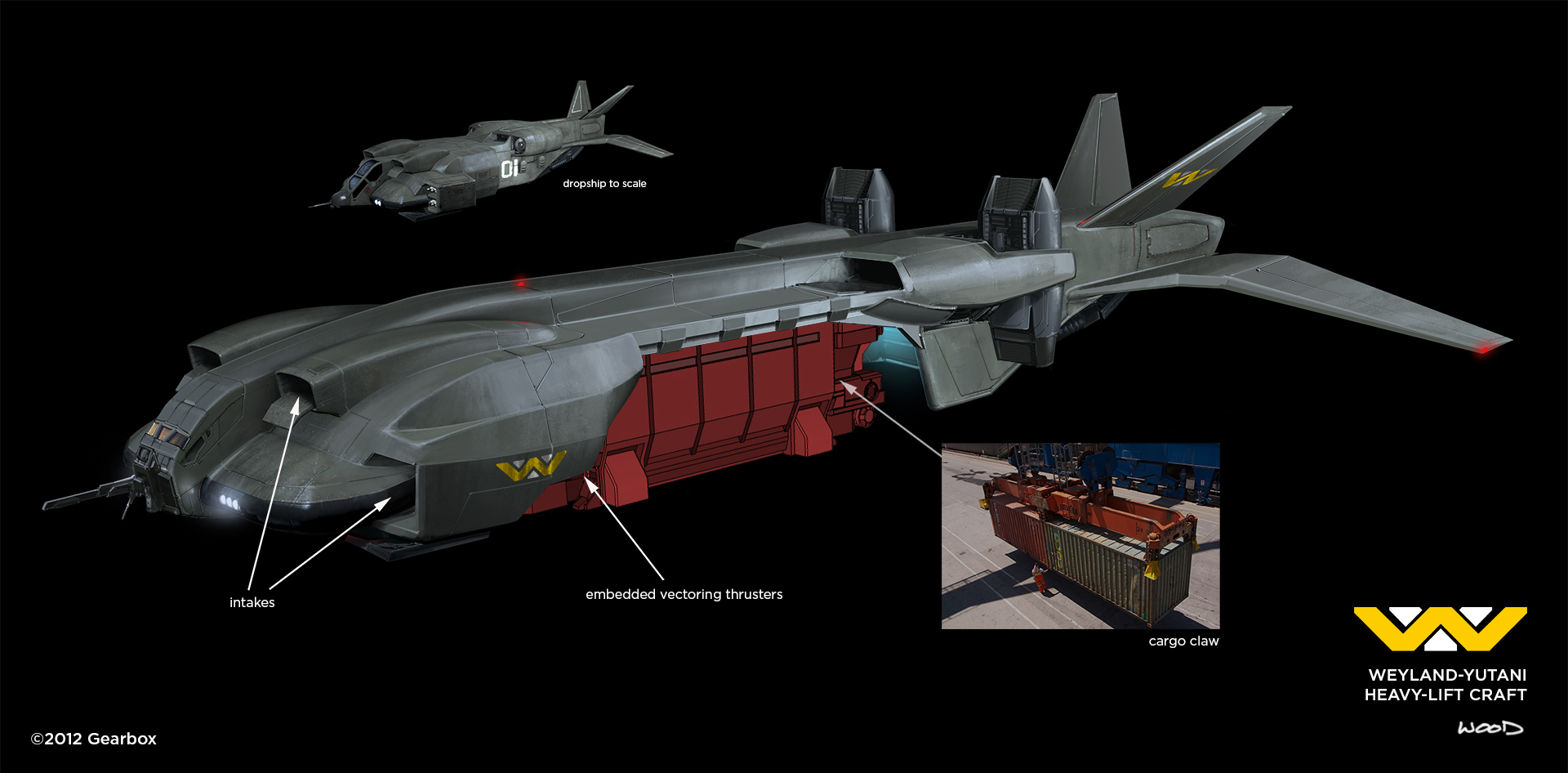 FTL Ship
Mr. Weyland's personal faster-than-light (FTL) flagship for him to personally travel to his company's excavations. The illustration was a 24x36 sketch (because I felt like drawing big that day).
This initial design is much smaller compared to the final. The intent was to be as large as, if not larger than the Sulaco, while again maintaining similar shape language.
FTL Ship Layout Model
Unfortunately, I did not have the time to fully flesh out the design as we were under a deadline. I created this rough model; adjusted the scale, and handed that off to the modeler.
ALIENS: COLONIAL MARINES