I was one of the fifty animators who made the final cut to work on this film. We used a proprietary vector-based rotoscoping software that used an interpolation algorithm to "guess" the transition animation between keyframes. The result is a nausea-inducing quality that fit with the theme of paranoia the runs throughout the story.
The production design was very minimal as we would handled the vfx, make-up, lighting, etc, in post.
The bulk of my time was in creating the "scramble suits" which the undercover police wear to conceal their identities. The suits are a digital membrane that would fluctuate with images of a variety of people making them the "everyman."
The following screenshots show the basic process of animating the film.
process
I then trace over the footage (rotoscoping), while flipping forward through frames and adding more line work as needed. The software then fills in the blank frames in between.
Keanu only did some facial twitching so this was an easy shot to animate.
process
Once the line-work was in and animated, I would start dropping in flat colors, highlights, shadows, etc, and let the software animate them over the course of the scene.
process
A final scramble suit frame. There were about three or four of us, I believe, handling the scramble suit scenes and characters. We quartered Keanu into four people using a variety of reference images of different sexes, nationalities, genders, celebrities, etc.
The final clips were then run through another algorithm by a visual fx animator who would animate masks over the footage and it would organically dissolve in between the animations that we produced.
final frame
Despite a very specific style-guide (and a contract to ensure that the actors' representations actually resembled them) each artist brought their own signature style to the characters as can be see over the next few frames.
final frame
final frame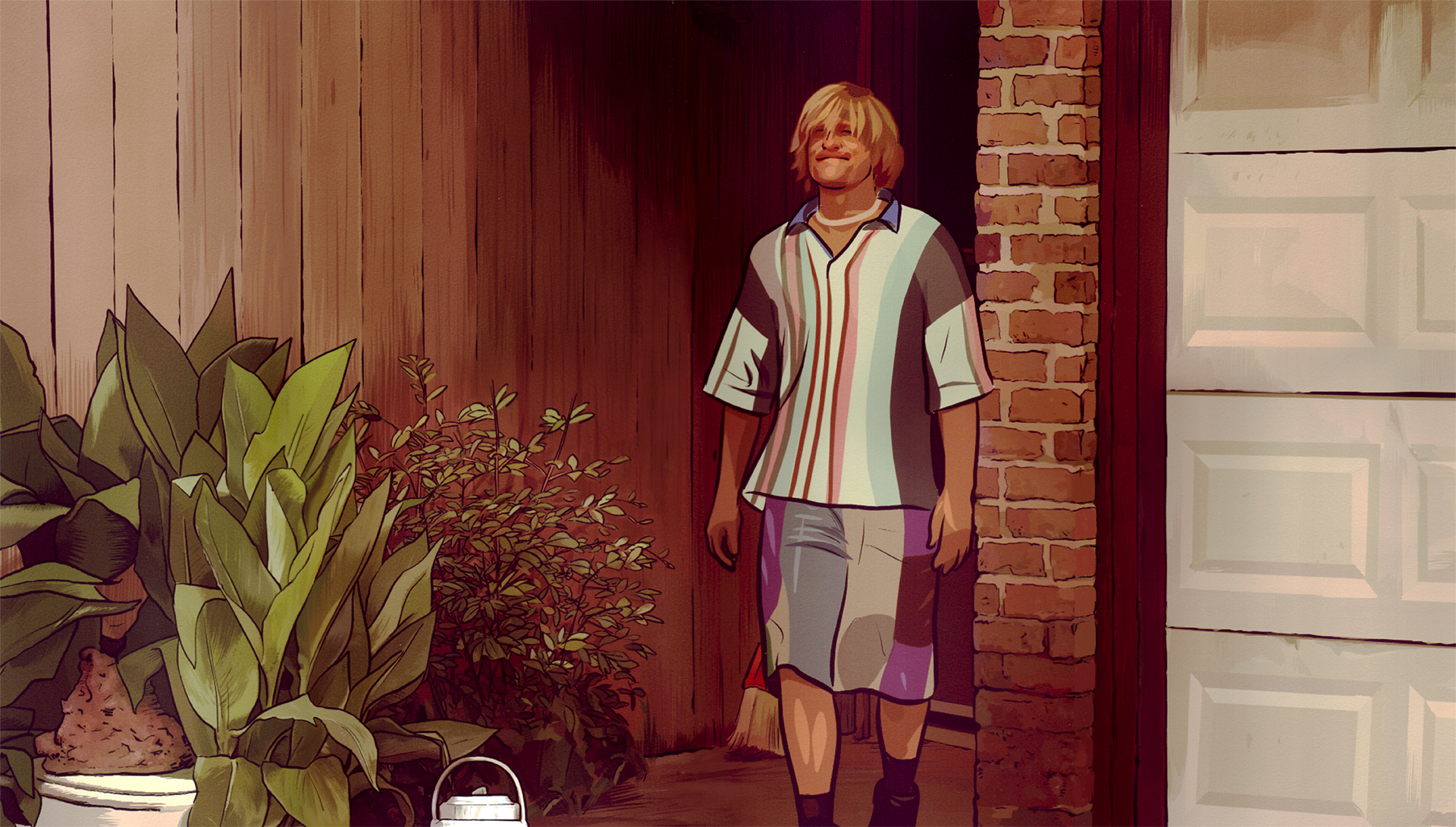 final frame
(one of my animated shots)
A SCANNER DARKLY